📘 Research Design: Method & Methodology
---
Get started by selecting your responses in this interactive form below
💻 Use the Social Science Research Helper Tool
Need a hand with designing your research?
🔍 Methodology Focus: Deep Dive into 'Design-based Research'
Design-based Research (DBR), synonymous with 'Design Experiment' is a research methodology (knowledge seeking approach) which aims to create greater understanding and improved outcomes with the creation of iterative experimental interventions. Design-based Methods can include both quantitative and qualitative data gathering and in some ways relates to action-based research and ethnography in that the researcher is intentionally intervening or partaking in the measures and comparing the outcomes, processes and results prior-to and after the newly implemented interventions.
Conceptually, the idea of Design-based research is probably as old as experimental thought itself. Trying out something, measuring it's impact and comparing that to measures from prior is a perfectly logical approach to wanting greater understanding of what works, when it works, for whom and how. Recent interest in Design-based research and /or Design Experiments has been mounting as researchers and scientists are embracing digital technologies which enables the tracking and logging of an unprecedented quantity of variables and complex interactions and because the rich data Design Experiments generate from which fascinating insights can be found.
In addition some researchers joined in the Design Based Research Collective According to Collins et al (2004: 16), design research was developed to address several issues central to the study of learning.
📰 History of Design Based Research
Education implementation of DBR came to the fore through Brown and Collins as a way of closing the gap between psychological research, using scientific method in the laboratory, and the reality of the classroom. Brown in her 1992 paper demonstrated how the laboratory based where limited in their abilities to explain the actual learning that was happening in a classroom. She saw the biggest challenge in developing a methodology that could experiment with in situ solutions to problems that also accounted for the interaction of multiple people within the setting of the classroom. Alongside Brown was Collins, who was trying to gain credibility for the concept of educational research being a "design science" which does require a methodology and systems like those of engineering.ii
From these beginnings DBR was taken up to the extent that a decade later Kelly and Leshiii produced the handbook on research in education. This gave Design Based Research a more solid name and a clearer outline of what it was and wasn't.
On the research side it became the ability to draw from multiple disciplines including developmental psychology, cognitive sciences, learning sciences, anthropology and sociologyiv, this was couples with the ability to draw on computer science curriculum theory, instructional design and teacher education on the design side. DBR had evolved into a means of studying dynamic educational environments and their complexities.
According to Anderson and Shattuck (2011)v Design Based Research (DBR) is defined by being situated in a real educational context and focuses on the design and testing of a significant intervention in education. It goes further to utilise mixed methods methodologies in order to undertake the studies. Further to this it will involve multiple iterations, each evolving from the previous towards a final solution to the initial problems proposed.
It is important to note that whilst DBR may seem similar or even to be Action Based Research in that "the design is conceived not just to meet local needs, but to advance a theoretical agenda, to uncover, explore, and confirm theoretical relationships" (Barab & Squire, 2004, p. 5)vi. Whilst the two types of research appear on the surface to be very much the same, it is noted that Action Based Research is generally carried out by the practitioner alone (a teacher in the classroom for example), whilst DBR is carried out by a research and design team. This is thought to give it more depth and an extra level of expertise.vii Kennedy-Clark (2015, p106)viii notes in her paper on DBR that what sets it apart "was its emphasis on theory building as part of the output as well as practical solutions."
At its core it will use mixed methods as a part of the design in order to help create the solution to the problem at hand.
Simple Video Explanation of Design-based Research
Consider comparing it to its similar but different Action Research (Video)
What is Mixed-methods Research?
It is a method of collecting research information and data by combining quantitative and qualitative research methods.
Quantitative data includes data that is collected primarily as scores on instruments or checklists to answer question or test a hypothesis which allows the measurement of attitudes and behaviors.
Qualitative data is more open-ended information which is generally gathered through focus groups and/or observations which is then sorted into categories and presents as diverse ideas for collecting data. (You find more on the hundreds of different types of methods you can use in The Sage Encyclopaedia of Qualitative Research Methods Vol 1&2, Edited by Lisa M. Given)
Video Describing Qualitative vs Quantitative research
Comparison of Design Based Research against Psychological Experimentation
Barab & Squire (2003)ix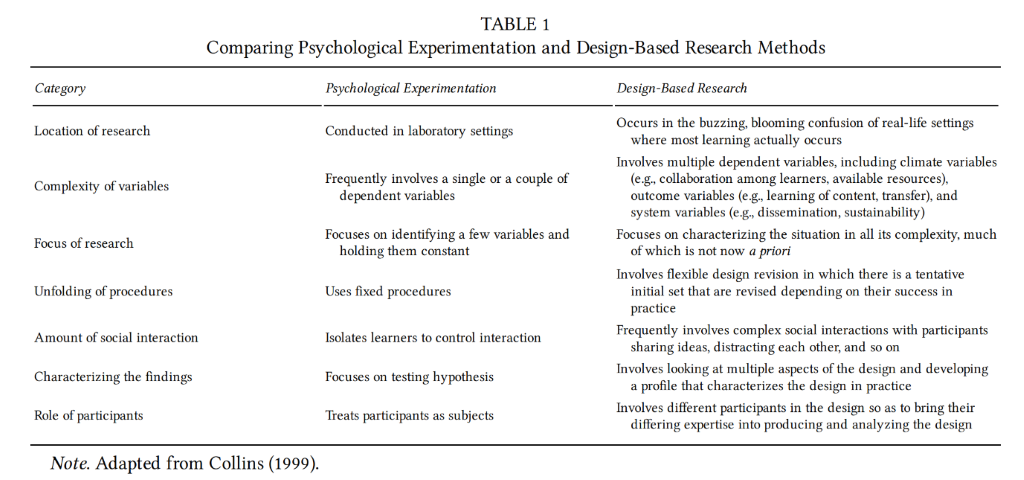 Hoadley (2002)x looks at the practicality of design-based research viewing "outcomes as the culmination of the interaction between designed interventions, human psychology, personal histories or experiences, and local contexts."
This of itself leads us to the problems of being able to put scientific method into place with 'proper' controls. There are so many factors that interact and influence how human behavior is interpreted and what we do, that it is impossible to control the factors within the environments we are studying. It is from this that we can see that DBR is the understanding that intervention in the research is a dependent and not an independent variable. It is because of this that DBR proceeds differently to scientific research methods.
🧾 Conclusion
There is much to consider when designing your research and considering which methods you'll employ to gather and process your data. Choosing a methodology which supports your methods can be challenging but it should be fun. It's a crucial aspect of effective research and done well, can lead to your study making significant contributions to knowledge and practice.
Think about the impact or ultimate outcomes of your research and their value to your community of interest. make it worthwhile.
By Mr Issiah "Mechagen" B. Burckhardt & Miss Magdalini Georgopoulos (Deakin University – School of Arts and Education)
We wish you the very best with your research design and hope you've found this tool and information useful in your journey.
💡 Question Time
How did you find this useful? Did the Social Science Research Helper tool stimulate ideas for your research questions?
What are your favorite research designs? Have a methodology you favor the most?
Leave your comment below 😊
📚 References
[1] Brown, A. L. (1992). Design Experiments: Theoretical and Methodological Challenges in Creating Complex Interventions in Classroom Settings. Journal of the Learning Sciences, 2(2), 141 – 178.
[1] Collins, A., Joseph, D., & Bielaczyc, K. (2004). Design research: Theoretical and methodological issues. Journal of the Learning Sciences, 13(1), 15–42.
[1] Kelly, A. E., & Lesh, R. A. (Eds.). (2000). Handbook of research design in mathematics and science education. Mahwah, NJ: Lawrence Erlbaum Associates, Inc.
[1] Design-Based Research Methods for Studying Learning in Context: Introduction in EDUCATIONAL PSYCHOLOGIST, 39(4), 199–201 (pg200)
[1] Design-Based Research: A Decade of Progress in Education Research? Terry Anderson1 and Julie Shattuck (2012) in Educational Researcher. (Educational Researcher, January 2012, 41(1):16-25)
[1] Barab, S. A., & Squire, K. (2004). Design-Based Research: Putting a Stake in the Ground. Journal of the Learning Sciences, 13(1), 1 – 14
[1] Design-Based Research: A Decade of Progress in Education Research? Terry Anderson1 and Julie Shattuck (2012) in Educational Researcher. (Educational Researcher, January 2012, 41(1):16-25) p17
[1] Reflection: Research by design: Design-based research and the higher degree research student Shannon Kennedy-Clark in Journal of Learning Design, 2015 Vol. 8 No. 3:106-108
[1] Clarifying the Terms. a Special Issue of the Journal of the Learning Sciences, edited by Sasha A. Barab, and Kurt Squire, Taylor & Francis Group, 2003 [1] Methodological Alignment in Design-Based Research Christopher M. Hoadley in EDUCATIONAL PSYCHOLOGIST, 39(4), 203–212 (p204), 2002